Haines 2.0 Solar Cooker with Cooking Pot
Haines 2.0 Solar Cooker with Cooking Pot
The Haines 2.0 is the most recent version of the popular product series.  Based on the experience learned from the Haines 1, the Haines 2.0 has improved performance with added features to increase heat and efficiency. 

What's Included:
The Haines 2.0 with Cooking Pot includes the solar cooker and a 4.5 quart stainless steel Haines Dutch Oven pot with tempered glass lid.  The pot lid is accessible during cooking, just like cooking on a stove.  It is safe – only the cooking pot gets hot (use hot mitts for handling). The unique panelbolic design of the Haines 2 evenly distributes heat along the bottom of the pot for greatest efficiency and quickest cooking.
Features:
Snaps together for quick assembly, disassembly and folds for compact storage
Adjustable for low and high sun angles to maximize solar energy, which allows you to cook early and late in the day
Take it on the go, as it weighs only 29 ounces (not including pot)

Boil a quart of water in as little as 40 minutes, depending on solar conditions
Assembly instructions provided
Technical Specifications
Reflector is Mylar bonded to polyester foam making is strong but flexible.  It will not scratch or oxidize and is not affected by spilled boiling water
Cooking sleeve insulates and elevates the pot so sunlight can be reflected onto the bottom of the pot. 
Top Rated Cooker! The powerful Haines 2.0 is the Number 1 rated solar oven of 2021... Treehugger Magazine April, 2021
Also, it was a top-ranked cooker as rated at 82 watts by the Solar Cookers International Performance Evaluation Process (PEP) test: https://www.solarcookers.org/resources/results
Cooks delicious pasta, rice, beans, vegetables, tender chicken, beef, sausage, potatoes, eggs, corn, squash, broccoli. Bakes wonderful bread, cornbread, soufflé and cake.
View the assembly video to see how easy it is to assemble the cooker
Sustainable Cooking
Harnessing the Power of the Sun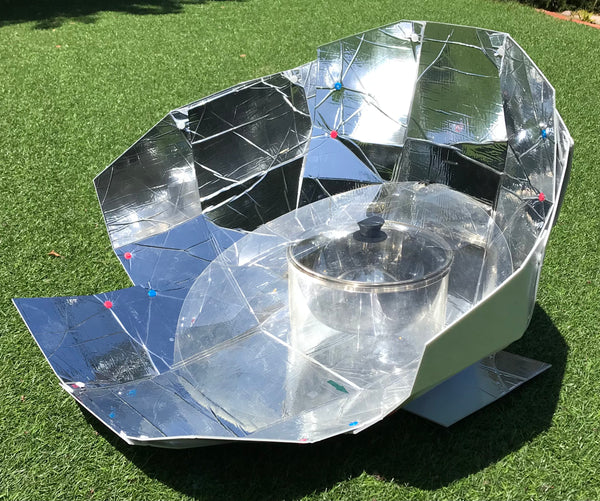 Solar Cooking

Use solar power renewable energy to efficiently cook food

Earth Friendly Cooking

100% planet friendly cooking
Design Features
Design

Panelbolic design focuses the sun's energy on the bottom of the pot to create an even, stable and efficient cooking surface

Family friendly activity

Solar cooking is a wonderful family learning experience

Variety of Foods

You are able to use the Haines 2 to cook almost anything that you normally bake.

Cooking Times

Depending on the sun angle and visibility, you can boil a quart of water in 40 minutes, or bake bread in two hours.